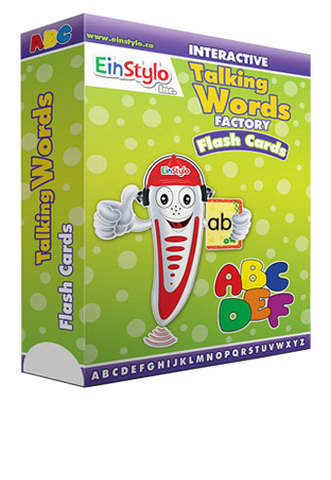 EinStylo - English Flash Cards - Phonics
$ 2500

$ 25.00

Save $ 1.99
---
---
Interactive flash cards.

Teaching reading and spelling in fun manner.

Learn pronunciation of syllables and vowels.

Link syllable with another syllable to make a word.

Educational fun toy .

 
 The advantages of Stylo Reader Pen is that it is an interactive teaching system for children.
By using Stylo Reader Pen learning becomes very interesting .
It teaches the child the correct reading of the words of Allah ( the All Mighty) along with explaining the words . It also enables the child to choose one of seven Quran reciters.
By using Stylo Reader Pen, children as well as fully grown people can learn very easily through many books in different fields : Arabic language ,English language ,Maths , science , General Culture ,Islamic books , Computer , The child's world : My home and my school- people – vegetables and fruits –Nature and time –Street and foods –Animals.
Stylo Reader Pen teaches the child the correct pronunciation of The English and Arabic words.
The system of the teaching talking pen reinforces the syllabuses of kindergarten stage since it is directed to children from three to seven years old.
Stylo Reader Pen is your child's best friend .he can use it any time any where :AT home ,at school ……in the park because it runs on the rechargeable lithium batteries which can run for a long time.
Stylo Reader Pen is supplied with 18 teaching posters which the child can stick on his room's wall.
Stylo Reader Pen is provided with an Audio system .its sound volume can be controlled by the icons that are printed on every book or through the functional card.
By using Stylo Reader Pen, the child can register his sound and compare it with the pronunciation in the book.
Stylo Reader Pen is supplied with a plug for the headphone so that the child doesn't disturb others during learning .
Stylo Reader Pen can also work as a song operater (MP3) .so you can store as many songs as you wish in the Pen's memory .
Your child can go to bed while his friend (Stylo Reader Pen) is telling stories since it closes automatically after the end of the story.
The products of the Talking Pen are:

The teaching bags.
books.
stories.
Teaching posters.
Cards.
The Holy Quran products.
Islamic products.
Teaching Arabic.
Teaching English.
Teaching Math.
Other teaching and recreational products.
---
We Also Recommend